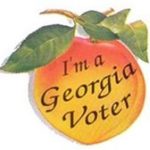 Washington County's Board of Elections and Registration is reminding the public of important dates to consider with the upcoming General Election to be held on Tuesday, November 8.
The final day to register to be able to vote in the midterm General Election is Tuesday, October 11.
Early voting will begin on Monday, October 17 and span through Friday, November 4. It will be held Monday through Friday in the Washington County Board of Elections and Registration at 150 Riddleville Road in Sandersville from 9:00 a.m. to 5:00 p.m.
Mandatory Saturday voting opportunities will be offered on October 22 and October 29.
The last day to request an absentee ballot for the November 8 General Election is Friday, October 28. Mail-in ballots may be returned by U.S. Postal Service or in-person at the Washington County Board of Elections and Registration.
Polls will be open on Election Day from 7:00 a.m. to 7:00 p.m. The public is reminded to visit their assigned polling precinct to vote:
– Sandersville … Washington County Recreation Department at 200 Franklin Haynes Boulevard
– Tennille … Good Shepherd Church of the Nazarene at 316 East South Central Avenue
– Davisboro … Davisboro Community Center at 208 South Main Street
– Deepstep … Deepstep Fire Station at 8940 Deepstep Road
– Riddleville … Old Riddleville Fire Station at 10310 Georgia Highway 231
– Oconee … Oconee Fire Station at 144 Fairbanks Street
– Harrison … Harrison City Hall at 40 North Railroad Avenue
– Warthen … Warthen Fire Station at 178 Warthen Lane
Tune in to WACO 100 (99.9 FM) when polls close for unofficial local election results.
If needed, the Runoff Election date would be Tuesday, December 6.
To register to vote, view or alter voter registration status, find a sample ballot of the upcoming election, request a mail-in ballot, check the status of an application, and access uniformed and overseas citizens absentee voting ballots, individuals may visit mvp.sos.ga.gov and the Washington County Board of Elections and Registration or call 478-552-5239.