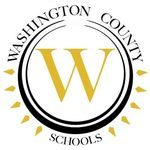 Students in the Washington County Public School District will take part in at-home learning on Friday, November 11.
Citing expected inclement weather by the end of the workweek, Washington County Public Schools are shifting away from in-person classroom learning on Friday.
"The School District has continued our close communication with the local Emergency Management Agency and National Weather Service (NWS) regarding Hurricane Nicole," said Washington County Public Schools Superintendent Dr. Rickey Edmond. "Recent models anticipate the majority of the storm impacting our area from Thursday evening into Friday."
On Wednesday night, Tropical Storm Nicole was upgraded to a Category 1 Hurricane and expected to make landfall in Florida on Thursday morning.
Current projections see Washington County receiving steady to heavy rainfall as the day progresses on Thursday. Inclement weather is expected to continue into Veterans Day on Friday. Washington County is set to observe a wind advisory over the two-day span with wind gusts anticipated as high as 40 miles per hour.
The National Weather Service cautions that winds may blow around unsecured objects and that gusts could cause tree limbs and power lines to fall down. NWS requests that drivers exercise extra caution while operating a vehicle.
"Please ensure that you take all the necessary precautions and check your disaster preparedness plan and kit," said Superintendent Dr. Edmond. "We will update you as we receive new information. Thank you for your patience and flexibility."
The Washington County Golden Hawks football game versus the Appling County Pirates is currently still scheduled for Friday at 7:30 p.m. in Baxley. Host school, Appling County, states that they are also monitoring local weather conditions. Pre-sale tickets for the GHSA AA State Tournament 1st Round Game may be purchased at gofan.co.
Additionally, the Annual Washington County Veterans Day Ceremony has been relocated from the Sandersville Courthouse Square due to the anticipated rainfall. The event will be held on Friday at 10:00 a.m. in the Sandersville Elementary School.