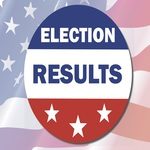 Democratic Incumbent Raphael Warnock defeated Republican Herschel Walker on Tuesday, December 6 in the 2022 General Runoff Election to retain his United States Senate seat.
Warnock was originally elected to the position during an early-2021 runoff of the 2020 special election against Kelly Loeffler, who was appointed to the seat by Governor Brian Kemp to fill remainder of the unexpired term of Johnny Isakson following his resignation.
Raphael Warnock narrowly edged Herschel Walker in overall votes in both Washington County and the state of Georgia on Tuesday. Walker originally acquired more votes than Warnock in Washington County during the November 8 General Election, but like the Incumbent, failed to receive the needed statewide 50-percent-plus-one-vote required to win a three-person election in Georgia.
Last month in Washington County, the Republican obtained 3,901 votes, or 50.28 percent, while the Democrat garnered 3,791 votes, or 48.86 percent. Libertarian Chase Oliver received 66 votes, or 0.85 percent. 7,758 of Washington County's 12,870 registered voters, or 60.27 percent, turned out to complete their ballots.
For the runoff election in Washington County, Raphael Warnock earned 3,753 votes, or 50.59 percent. Herschel Walker acquired 3,665 votes, or 49.41 percent. A mere 88 votes separated the two candidates. 7,433, or 57.75 percent, Washington County voters made their voices heard on Tuesday, which was 325 fewer voters than in November.
Warnock defeated Walker by 80 votes in Sandersville and 109 votes Tennille. He also received 250 more in-person early votes and 234 more by-mail early votes.
Walker outpaced Warnock by 63 votes in Davisboro, 157 votes in Deepstep, 123 votes in Harrison, 86 votes in Oconee, 91 votes in Riddleville, and 65 votes in Warthen.
On Election Day, there were 289 votes cast in Davisboro, 229 in Deepstep, 315 in Harrison, 226 in Oconee, 225 in Riddleville, 1,170 in Sandersville, 631 in Tennille, and 305 in Warthen.
3,442 individuals took part during in-person early voting from Monday, November 28 through Friday, December 2. 586 voters submitted their ballots by mail.
Each candidate won the same voting precincts in the Runoff as they did in the General Election. The alteration in December was Raphael Warnock tallying more votes than Herschel Walker during in-person early voting, which he lost last month.
The above results were tallied by the Washington County Board of Elections and Registration and are unofficial until reviewed by the Office of Georgia Secretary of State Brad Raffensperger.