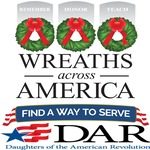 Decorative wreaths will be placed on the graves of United States veterans in the Sandersville City Cemetery on Saturday, December 17.
The Jared Irwin Chapter of the Daughters of the American Revolution is partnering with Wreaths Across America to supply the wreaths being laid on the grave of each veteran in the cemetery.
Members of the public purchased wreaths and provided names of veterans to be recognized during the program.
The public is invited to attend the patriotic event at 10:00 a.m. Seating will be available.
General parking is in the Sandersville United Methodist Church parking lot. For handicap parking, enter from Virginia Avenue. Exit onto West Church Street when leaving the presentation.
Wreaths Across America is a 501(c)(3) nonprofit organization that coordinates wreath­-laying ceremonies at more than 3,400 locations in all 50 states, at sea, and abroad. Their largest annual wreath-laying project is in the Arlington National Cemetery. Wreaths Across America's mission – Remember, Honor, Teach – is carried out in part each year by coordinating wreath-laying ceremonies and touching the lives of thousands of school, scout, civic, and religious groups across the country through educational means.
The Governor Jared Irwin Chapter of the Daughters of the American Revolution is designed to promote historic preservation and encourage active participation in educational and patriotic endeavors. Members share a common bond of having an ancestor who helped contribute to securing the independence of the United States of America. Any woman 18 years or older, who can prove lineal descent from a patriot of the American Revolution is eligible to join.
The Sandersville Old City Cemetery is located at 141 West Haynes Street.