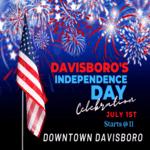 The Davisboro Independence Day Celebration returns this weekend!
'Back and better than ever,' the 2023 installment of the annual event offers both the return of fan favorites and brand-new events.
Festivities open up in the City of Davisboro tomorrow on Saturday, July 1.
Beginning at 11:00 a.m., vendors will be selling a variety of delicious food, including BBQ. Art and crafts vendors are also set to be on-site.
New to the lineup of events this year, a car show will also be ongoing through the course of the day.
Antique cars, motorcycles, and sling shots will all be on display for enthusiasts to enjoy viewing.
Additionally, added to the extensive list of activities for attendees to enjoy is the Inaugural Davisboro Independence Day Celebration Parade.
It will take place through the downtown street at 6:00 p.m.
Fun, kid-friendly, and family activities, along with live music and entertainment, will be available and ongoing during the excitement-packed afternoon.
Of course, the highlight of the night – the annual fireworks display – will follow and light the Davisboro skies at dusk.
Each year, thousands of patrons flock to the 'Boro with family and friends to enjoy the sights, sounds, scenes, and shows.
Following an alteration to the location for set-up of last year's display, fireworks are returning to the field behind the Davisboro Community Center for the 2023 showing.
Each and every summer, the dedicated and hardworking men and women of the Davisboro Volunteer Fire Department execute the planning and firing of the overhead display.
The Department is certified to shoot fireworks through the Bureau of Alcohol, Tobacco, Firearms, and Explosives.
For further information on the 2023 Davisboro Independence Day Celebration, contact the City of Davisboro City Hall at 478-348-4401.