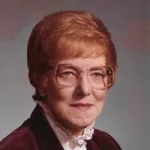 Mrs. Peggy Virginia Griggs Day, age 91, of Tennille passed away on Tuesday, July 25, 2023. A funeral service to celebrate her life will be held on Saturday, July 29th at 11:00 A.M. in the May & Smith Funeral Home Chapel of Sandersville. The family will receive friends on Saturday from 10:00 A.M. until the hour of the service at the Funeral Home.
Mrs. Day was born in Monticello on August 2, 1931, to the late Charlie J. Griggs and the late Bessie Morris Griggs. Despite complications with her birth and doctor warnings of poor health, she defied odds and lived a full, healthy life. Peggy was raised during the austere atmosphere of the 1930's and the deprivations of World War II rationing in a family with two older brothers, often being referred to as a "tomboy." Mrs. Day graduated from the Monticello High School and attended the University of Georgia to become a Navy Nurse before returning home following the death of her mother. She went to work with her father on the railroad, travelling throughout Georgia. In 1951, Peggy married her lifelong love, Richard Day, and relocated to Macon, where she served as a Boy Scouts of America Den Mother and won several Excellence Awards. Mrs. Day moved to Tennille in 1968 and assumed employment as School Secretary at the Tennille Elementary School for 20 years. She retired to become caregiver for her husband following his Alzheimer's disease diagnosis. Following his passing, Peggy turned her attention to caregiving in her community as Organizer of the Washington County Alzheimer's Support Group, mentoring others in similar situations and raising funds for local families. Mrs. Day was an active member of the Tennille Baptist Church, teaching an Adult Ladies Sunday School Class. Peggy will be fondly remembered for a life well-lived through service to others above self.
Survivors include her sons, Richard Russell Day, Jr. and wife Marie of Kennesaw and Charlie Wayne Day and wife Julie of Tennille; and grandchildren, Christopher Wayne Day and wife Ruby of South Boston, Virginia and Courtney Day Wesson and husband Hunter of Milledgeville.
The family would like to express their sincerest appreciation to the staffs and management of Twelve Oaks Senior Center in Dublin, Agape Hospice of Dublin, and WellStar Tranquility Hospice of Kennesaw for their compassionate and professional care for Mrs. Day.
Donations may be made the Washington County Alzheimer's Family Support Group, c/o Kathy Barker, 886 Sparta Road, Sandersville, Georgia 31082
Online condolences may be expressed at mayandsmithfuneraldirectors.com.
May and Smith Funeral Directors are in charge of the arrangements.