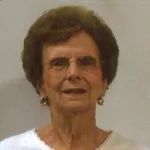 Mrs. Wylene Boatright Lewis, age 87, of West Church Street in Sandersville passed away on Thursday, July 27, 2023, at her residence following an extended illness. A funeral service to celebrate her life will be held on Sunday, July 30th at 2:00 P.M. in the May and Smith Funeral Home Chapel of Sandersville with burial in Brownwood Cemetery of Sandersville. Reverend Tripp Hodges will officiate. Pallbearers will be Britton Boatright, Jeff Boatright, Michael Claxton, Mike Claxton, Ethan Henry, and Tal Henry. The family will receive friends on Sunday from 1:00 P.M. until the hour of service at the Funeral Home.
Mrs. Lewis was born in Swainsboro and reared in Midville, the daughter of the late Briton Boatright and the late Goy Sherrod Boatright. She graduated from the Summertown High School and the Barrett School of Nursing in Augusta. Wylene worked for 57 years as a Registered Nurse, beginning her career as an Emergency Room Nurse at University Hospital in Augusta, where she became E.R. Director and taught nursing. She relocated to Sandersville in 1966 for employment as Director of Nursing at the Washington County Regional Medical Center. Wylene then transitioned to long-term care and served as Administrator of Oconee Health and Rehab and the Washington County Extended Care Facility. Mrs. Lewis was well-regarded as a dedicated hard-worker and compassionate caregiver. She was a member of the Washington County Exchange Club and Secretary-Treasurer of the Tennille Christian Church. Wylene is preceded in death by her husband, Walter L. Lewis.
Mrs. Lewis is survived by her brother, Beman Boatright of Midville; and by many nieces, nephews, great-nieces, and great-nephews.
The family would like to express appreciation to friends and neighbors for their compassion and support during this difficult time.
Donations may be made to the American Cancer Society at donate.cancer.org.
Online condolences may be expressed at mayandsmithfuneraldirectors.com.
May and Smith Funeral Directors is in charge of these arrangements.