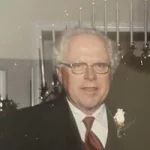 John M. Bailey of Oconee passed away on Friday, August 3, 2023. A funeral service to celebrate his life will be held on Sunday, August 6th at 2:00 P.M. in the May and Smith Funeral Home Chapel of Sandersville with burial in the Bay Springs Cemetery of Tennille. The family will receive friends on Sunday from 1:00 P.M. until the hour of the service at the May & Smith Funeral Home.
Mr. Bailey was born and reared on a farm in Johnson County, to the late George Eulie Bailey and the late Gertrude Averett Bailey. He attended the Johnson County Public Schools before a 45-year career with Englehard. John was known as a "jack of all trades," excelling in music, woodworking, and mechanics. Mr. Bailey was a Certified Master Carpenter, having proudly built several family homes. He was often drafted to resolve needed repairs at his family's restaurant, Herb's Fish Place. John enjoyed mowing yards, driving his tractor, and fishing; although, his greatest joy was his family. Mr. Bailey adored his children and was extremely proud of their accomplishments. He was known as "Dyee" to his beloved grandchildren, serving as their role model, biggest cheerleader, and honest critic. John was an extremely talented vocalist and musician, a founding member of "The Lamplighters" in the 1960's and 1970's. Mr. Bailey recorded a popular country album alongside his brother and performed on many of Nashville's largest stages, including the Grand Ole Opry. John was preceded in death by his siblings, Buford Bailey, Eldridge Bailey, Harold Bailey, Ruth Brown, Doris Davidson, Ralph Bailey, and Louise Bailey.
Survivors include his wife, Bess Bailey; children, Michelle Bailey Willis and husband Ken of Oconee, Nicki L. Bailey of Oconee, and Jonathan Bailey and wife Neshelle of Oconee; grandchildren, J. Ashley Willis of Wrens, Justin Willis of Sandersville, Meghan Bailey of Oconee, and Alaina Bailey of Oconee; great-grandchild, Ryan Moss of Wrens; siblings, Lynell Bailey Chance of St Simons Island and Jimmy Bailey of Wrightsville; and a number of nieces, nephews, and friends.
Donations may be made to The National Kidney Foundation, Good Shepherd Church, 316 East South Central Avenue, Tennille, Georgia 31089 or to the Sandersville First Church of The Nazarene, P.O. Box 801, Sandersville, Georgia 31082.
Online condolences may be expressed at mayandsmithfuneraldirectors.com.
May & Smith Funeral Directors is in charge of these arrangements.