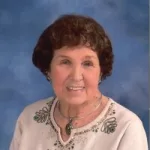 Mrs. Mary Lee Gailbreath Rogers, age 91, of Sandersville passed away on Saturday, August 5, 2023, following an extended illness. Funeral services to celebrate her life will be held on Tuesday, August 8th at 11:00 A.M. in the May & Smith Funeral Home of Sandersville. Pastor Will Johnson will officiate. Pallbearers will be Ben Doolittle, Shane Lord, Will Lord, Mack Rogers, and Mike Rogers. The family will receive friends at the Lord Residence, 7190 Linton Road in Sandersville on Monday, August 7th from 5:00 P.M. to 7:00 P.M.
Mrs. Rogers was born on April 23, 1932, in Middle Tennessee. She attended the Georgia State College for Women in Milledgeville and received a Master's Degree in Business Administration. Mary Lee worked in various occupations throughout her career, including as an Educator and Administrative Assistant for the Macon City Council. Mrs. Rogers married the late Mack Irwin Rogers in 1957 and raised their three children while he served in the military. She was a member of the Fort Hawkins Commission and a long-time Elder for the First Christian Church of Macon. Mary Lee was also a Grand Matron for the Peach, Gray, and Lizella Chapters of the Order of the Eastern Star. She enjoyed serving the needs of others, tending to her family, spending a day at the golf course, baking in her kitchen, and working in her garden.
Mrs. Rogers is survived by her children, Virginia Lord and husband Shane of Sandersville, George Rogers and wife Teresa of Sandersville, and Mary Wynne Rogers of Macon; grandchildren, Anna Grace Lord Doolittle and husband Ben, Will Lord, Mike Rogers and wife Bekki, and Mack Rogers and wife Sarah Jean; and great-grandchildren, Coraline Rogers, Everlee Rogers, and Thalia Rogers.
Donations may be made to the First Christian Church of Macon, 2306 Vineville Avenue, Macon, Georgia 31204.
Online condolences may be expressed at mayandsmithfuneraldirectors.com.
May and Smith Funeral Directors is in charge of these arrangements.