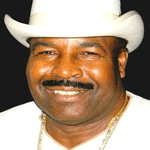 Mr. J. Finley May, Sr. passed away on Friday, September 1, 2023, at Heritage Inn of Sandersville. Funeral services will be held on Thursday, September 7th at 4:00 P.M. in the Minton Spring A.M.E. Church of Sandersville with Reverend Melvin Farmer officiating. Interment will be held in the Church Cemetery.
Mr. May is survived by his children, Deborah May-Lester, Hilda Harris, Latricia Dean May, Julie Lee, J Findley May, Jr., Darlene Geneva Lanier, Leonard Markham, Deon Markham, Alberta Okoro, Corey May, and Shaun MacNeal; twenty-three grandchildren; and a host of other relatives and friends.
M.C. Smith Funeral Home in charge.