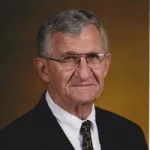 Colonel Theodore McDonald III, age 80, of Theodore, Alabama passed away on Thursday, August 31, 2023, at The Retreat Hospice in Mobile, Alabama. A memorial service to celebrate his life will be held with military honors on Saturday, September 16th at 11:00 A.M. in the Sandersville United Methodist Church. Reverend Dr. Stan Littleton will officiate. The family will receive friends on Saturday following the service in Church Heritage Hall.
Colonel McDonald was born on January 9, 1943, the son of the late Theodore McDonald, Jr. and the late Dorothy Floyd McDonald Tomlinson. He was a graduate of the Dublin High School, North Georgia College, and Georgia Southern University where he received a Bachelor of Arts degree in history and a Master's degree in public administration. Theo was a veteran of the Vietnam War, who proudly served his country in the United States Army for 28 years. Colonel McDonald was credited for playing an active role in establishing the U.S. Central Command in 1983. He held multiple posts as Deputy Community Commander, including stints in Germany and South Korea. Theo relocated to Sandersville in retirement for work with the Washington County Chamber of Commerce, planting roots in the beloved community that yielded him many years of friendship and support. Colonel McDonald is preceded in death by his first wife of 58 years, Portia Hargrove McDonald, and his brother, Steve McDonald.
Survivors include his wife, Sandra Brown McDonald; children, Kevin Theodore McDonald and wife Melissa of Tampa, Florida, Matthew Hill McDonald and wife Dina of Macon, Steven Smith McDonald and wife Kellie of Canton, Theodore "Buddy" McDonald IV and wife Phuong Pham of Canton, Michele Adkins and husband Dwayne of Bristow, Virginia, and Kyle Brannon and wife Christiane of Vienna, Austria; grandchildren, Rachel Anne McDonald of Macon, Alexandra Nicole McDonald Bloch and husband Dylan of Fort Lauderdale, Florida, Jacob Matthew McDonald and wife Sara of Marietta, Caden James McDonald of Tampa, Florida, Edwin Thomas McDonald of Canton, Grace Kellie McDonald of Canton, and Oliver Hai Lonzo McDonald of Canton; and siblings; Suzanne Heidler and husband Jack of Dublin, Kathy Tomlinson Beck and husband Don of Dexter, Kenny Tomlinson and wife Nancy of Dudley, and Anthony Tomlinson and wife Samantha of Dublin.
Online condolences may be expressed at mayandsmithfuneraldirectors.com.
May and Smith Funeral Directors is in charge of these arrangements.