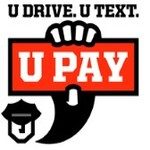 The Sandersville Police Department is joining law enforcement agencies nationwide from Thursday, April 8 – Monday, April 12 to remind drivers about the dangers and consequences of texting and distracted driving. This annual campaign is part of the Georgia Governor's Office of Highway Safety (GOHS) and U.S. Department of Transportation's National Highway Traffic Safety Administration's (NHTSA) national U Drive. U Text. U Pay. high-visibility enforcement effort.
In 2020, Sandersville Police issued 10 distracted driving citations. According to NHTSA, 3,285 people were killed by a distracted driver last year. Of these individuals, 25 percent were 20 – 29 years of age. NHTSA also states that 21 percent of teen drivers involved in a car accident were distracted by cell phones. Unfortunate statistics say that 660,000 drivers use electronic devices while driving.
Studies show that individuals in the "Millennial" and "Gen Z" demographics are the most distracted drivers, often using their cell phones to talk, text, and scroll through social media while behind the wheel. While we generally think of distracted driving as texting or talking on a cell phone, it can also take many other forms, such as adjusting the GPS, applying makeup, eating, or even interacting with other passengers.
"We aren't out here for the fun of it," said Captain Kelly Collins of the Sandersville Police Department. "Texting, messaging, and other forms of distracted driving are increasing habits that put everyone at risk, even those of us in law enforcement. We want drivers to focus on the most important task: hands on the wheel and eyes on the road."
Violating Georgia's distracted-driving laws can be costly. The fine for a first conviction is $50 and one point assessed against the driver's license. The fine is $100 and two points for a second conviction and $150 and three points for three or more convictions. The fines for a 2nd or 3rd offense only apply when the date of a 2nd or 3rd conviction takes place within 24 months of the date of the first conviction. First time offenders can have the charge dropped by showing the court they have obtained a device that allows them to talk on a phone with hands-free technology or devices.
Sandersville Police, Georgia GOHS, and NHTSA urge drivers to put their phones away when behind the wheel. Follow these steps for a safe driving experience:
– Expecting a text message or need to send one? Pull over, park the car in a safe location, and respond while off of the road.
– Ask passengers to be "designated texters." Allow them access to the phone to respond to calls or messages.
– Do not engage in social media scrolling or messaging while driving.
– Cell phone use is habit-forming. Struggling to not text and drive? Activate the phone's "Do Not Disturb" feature, or put it in the glove box or back seat of the vehicle while driving.
Texting while driving is dangerous and illegal. No text or post is worth ruining someone's day – or taking a life. Remember: U Drive. U Text. U Pay. For more information, visit nhtsa.gov/campaign/distracted-driving.