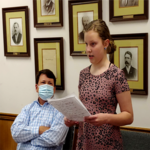 Brentwood School fifth grader Katie Wilson has a request for the Sandersville Mayor and Council – to bring back the recycling program for residents of the City of Sandersville.
Wilson, a student in Mrs. Susan Brantley's class, attended the Monday, April 19 Sandersville City Council meeting where she discussed the benefits of recycling, and asked the City to consider providing a recycling option for citizens.
"Regular citizens like me can perform simple acts such as recycling plastics, recycling glass, and recycling paper," said Wilson, adding that those simple acts ultimately help the environment.
Wilson went on to say that she's proud that the City of Sandersville previously offered the recycling option for citizens.
"And I would like to help in any which way I can," stated Wilson when encouraging the Mayor and Council to provide the recycling option in the future.
Sandersville Mayor Pro-Tem Jeffery Smith explained during the Sandersville City Council meeting that the City discontinued the service because there was difficulty finding a vendor to collect and accept the recycled goods.
"But I do think recycling deserves another look by us," said Mayor Pro-Tem Smith.
Katie Wilson is the daughter of John and Suzy Wilson of Sandersville.