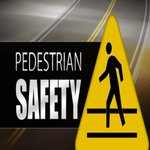 October often brings cooler temperatures and the colorful changing of leaves on trees which makes spending time outside more enjoyable. It also happens to be National Pedestrian Safety Month.
"We are all pedestrians at some point during the day. So, it's important that we prioritize having safer streets." said Captain Kelly Collins of the Sandersville Police Department. "Georgia faced over 283 pedestrian deaths last year."
Pedestrians have a higher probability of dying when struck by a vehicle moving 40 mph or faster. 82 percent of fatalities occur during overnight hours and 90 percent of fatalities occur outside of a crosswalk. One-third of fatalities are attributed to motorists not yielding to pedestrians, while another one-third are attributed to pedestrians not yielding to motorists.
As a community, there are simple steps everyone can take to reduce the number of these tragedies.
Follow these tips to stay safe as a pedestrian:
– Whenever possible, walk on the sidewalk; if no sidewalk is available, walk facing traffic
– Follow the rules of the road, obeying all traffic signs and signals
– Cross streets at crosswalks
– If no crosswalk is available and the view is blocked, move to a place where one can see oncoming traffic
– Look left, right, and left again before crossing the street and make eye contact with drivers of oncoming vehicles to make sure the are aware
– Stay alert by avoiding cell phone use and wearing earbuds
– Avoid alcohol and drug impairment when walking
– Wear bright and/or reflective clothing and use a flashlight at night
– Watch for cars entering or exiting driveways or backing up in parking lots
– Children younger than the age of 10 should cross the street with an adult
When driving, help keep pedestrians of all ages safe by adhering to the following:
– Obey all traffic laws, especially posted speed limits in school zones
– Watch for pedestrians at all times and be extra cautious when backing up
– Yield to pedestrians in crosswalks, making eye contact to indicate awareness
– Never pass vehicles stopped at crosswalks
– Stay alert by avoiding distracted driving
– Do not drive under the influence of alcohol and/or drugs